Maximal Energy Pvt Ltd., is a complete turnkey solutions provider in the Solar Photovoltaic sector and luminary.
Maximal Energy offers a wide range of renewable energy technology options comprising of: The service provided by Maximal Energy is as Below.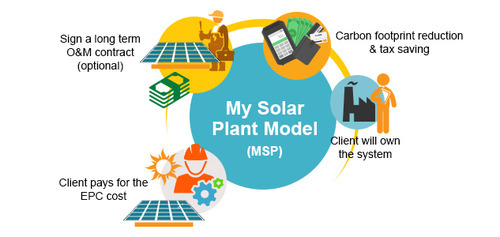 Build, own, operate (BOO)/Build, own, operate & Transfer (BOOT)
Engineering, Procurement and Construction (EPC)
Operation and Maintenance
solar plant monitoring system
Manage your solar system from anywhere in the world with 24/7 mobile monitoring. Watch your energy in real time or set your preferences to optimize for energy independence.
we providing centralized cloud based Remote Monitoring Solution (RMS) for Solar Plants, Solar Water Pumping and Solar MW Plants. The RMS allows you to monitor the real time functionality of your asset and increase their up time. The real time monitoring helps in operation and maintenance of your solar plant and also reduces cost of O&M. The user friendly and analytical dashboard provide trends and history data to analyze the performance of the plant and schedule maintenance.
Solar street light is an effective outdoor lighting to illuminate the street or any open areas through the use of solar energy. Solar street light is powered by solar panels and turned on and off automatically by sensing the nightfall and the daylight. Solar cells generate direct current by using sunlight as a source of energy.  The controller in solar lights works as a regulator.  It charges the battery and also controls the reverse power flow. 
solar Battery with Lithium-ion technology
Lithium solar batteries are a rechargeable energy storage solution that can be paired with a solar energy system to store excess solar power. Li-Ion solar battery comes with many significant advantages like Lightweight, Few self-discharge, Low maintenance.
The world is moving towards newer technology, Higher efficiency products, The Maximal solar  introduces Power backup system powered with a Lithium battery. 5 kVA inverter and 5 kWh Lithium battery is sufficient enough to cater a home power needs to run 6-10 lights, 3-4 fans, 1 television, 1 refrigerator, 1 Grinder, Juicer machine, along with charging a couple of mobiles and laptop. The lithium battery has a capacity to store 5,000-watt power inside it. This set up replaces the old traditional system in which a customer generally buys a 5 kVA inverter and 4 Nos. of 150 Ah Lead-acid battery.